Exhibition
EXPOSURE "CURVES IN BRAZILIAN ARCHITECTURE"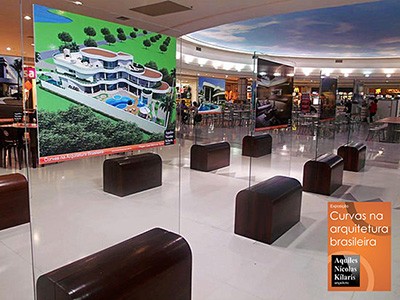 INTRODUCTION
Pioneer of the movement that values the curved lines, the architect Aquiles Nícolas Kílaris organized an itinerant exhibition of panels of photos and projects whose main objective is to spread the architecture as an art form. The style created by Kílaris gains more and more space and followers. In architecture faculties, its features have motivated debates and studies between students and teachers. Professionals in the field also seek inspiration in their contours to execute projects. The "Kílaris way" is provoking a "revolution" because it is different harmonic and beautiful.
Rounded shapes, roof sets, angular arrangements creating spaciousness, ventilation and lighting fully integrated with outdoor areas and gardens are your specialty. His work of creation takes into account the forms of nature, where sinuous lines give the touch of beauty and harmony.
Transposing these forms into architectural designs is your challenge. Authority on the subject, he leaves his mark on every job. In this exhibition, the architect opens his files and presents what he creates of the most contemporary and innovative.
EXHIBITION
The exhibition is composed by: Twenty panels of glass of 1 meter and 90 cm by 1 meter. Forty colored photos, 90 centimeters by 70 centimeters, will occupy both sides of the panels. The photos are of projects, design, renovations, interiors and registration before and after work done
CONSIDERATION FOR CULTURAL SPACE
Qualified product, of very high finish, with artistic photos. Have in your space an exhibition of direct interest to your target audience. Image of cultural space tied to modernity. Quote in press releases distributed to the press. Spontaneous media.
SPACE REQUIRED
For the assembly of the exhibition "Curves in the Brazilian Architecture" it is necessary an area from 50 square meters. Exposure can be magnified or reduced according to space.
EXPOSURE PERIOD
The architecture office proposes that the exhibition lasts from 15 to 30 days, always respecting the opening hours of the place.
HISTORIC
The architect Achilles Nícolas Kílaris has as his trademark the contemporary features and the accurate taste for the beautiful. Precursor in the architectural movement that values curved lines and integration with the beauty of Brazilian nature, it is not uncommon to in his works a different style. It has created new trends and a unique style.
Of Greek origin, Kílaris values the classic architecture of its ancestors, mixing and recreating several concepts with harmony. Versatile, the architect who graduated from PUC-Campinas in 1989 carries out outstanding works. Its projects are recognized not only in the region of Campinas, but also in several Brazilian states and in other countries.